Christine Sine at GodSpace is currently writing an update to her guide on participating in Lent in a meaningful way. If giving up chocolate is as far as you normally go, then this would be a fantastic challenge.
However in the meantime you can look at the version that was used last year, and to be honest you could just use this as it is timeless in content. Christine says that "Each week we focused on a different aspect of the brokenness of the human condition – with activities from easy to challenging that people could participate in."
Here is a link to the slideshare website where it is hosted, and here it is embedded: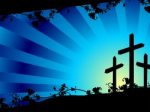 Find more Easter resources
You can find extra free Easter stuff including sermons, cards, music, clip art, devotions and much more at the Easter page.
image by dtcchc.