fCr rating:

Bible Study Tools
main website
A simple website with a wealth of resources
Bible Study Tools is simple online website that provides access to a wealth of public domain bible study tools. The majority of the content is accessed by searching for words or verses in the bible search box, but there are plenty of little added extras that may also be appealing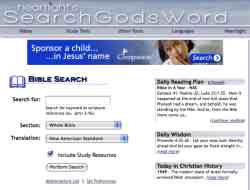 Design, layout & basic usage
The design is basic, and the layout easy to follow. The main advantage of this is that whilst it may not be flash, it makes searching for words or verses quicker than some other online bibles. Some aspects of the site (such as language and default translation) can also be customized to your own preferences for future use.
Searching is very easy, simply type in the word you are interested in and the bible translation you require (from a long list including NAS, NKJV). It doesn't include the ESV or NIV though, which are popular translations. Most of the results comprise the verses that the word/s appear in, which you can then choose to read in context, read the original text in Hebrew or Greek, or read the whole chapter. However, the real power of Search Gods Word comes from the additional tools such as dictionaries, commentaries, concordances and encyclopaedias. I discuss later in this review the options available, but in the search results you will be shown which entries are applicable to your search to the right of the bible verses.
So for example if you were to search for hope in the NASB you would find 132 verses, but also 3 concordance results, 1 dictionary result, 1 encyclopedia result and 24 lexicon results. You then just to click on which ever resource you want to read. Whilst this does mean you do not get all of the search results on one page, it does help to ensure the searching is fast.
Content
An important element of what make Search God's Word useful is the variety of texts available. The current list of items included is shown at the end of this review at the "Content available" section.
Daily Devotions
There are links to daily devotions for Oswald Chambers' My Utmost for His Highest, Spurgeon's Morning and Evening and more.
Also each day there are interesting little sections including a Christian "This Day in History"
Other content
There are some useful added extras including the ability to add a widget on your own website that will then link through to the Search God's Word website. I have added the default code below, but this can be customized to fit in to the style of your website, or to only include some translations.
Content available
Commentaries
Abbott's Illustrated New Testament, Burton Coffman Commentaries, Darby's Synopsis, The Fourfold Gospel, Geneva Study Bible, Gill's Exposition of the Entire Bible, Jamieson, Fausset, Brown, Matthew Henry Concise, Matthew Henry Complete, McGarvey's Original Commentary on Acts, People's New Testament, Robertson's Word Pictures, Scofield Reference Notes, Treasury of David, Treasury of Scripture Knowledge, Wesley's Explanatory Notes
History
The Works of Josephus, Bible History, Old Testament, Sketches of Jewish Social Life, The Temple – Its Ministry and Service, Writing of the Early Church Fathers, Creeds and Confessions, Foxe's Book of Martyrs, History of Protestantism, Sketches of Church History
Concordances
Nave's Topical Bible, Torrey's Topical Textbook, Treasury of Scripture Knowledge
Dictionaries
Easton's Bible Dictionary, Hitchcock's Bible Names, Smith's Bible Dictionary
Encyclopedia
Condensed Biblical Cyclopedia, International Standard Biblical Encyclopaedia
Lexicons
New Testament Greek, Old Testament Hebrew