fCr rating:

Filling Up the Afflictions of Christ
by John Piper
Download book
Sharing the gospel can be accompanied with suffering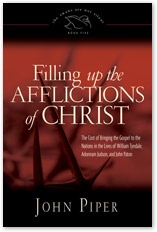 Note: The display and/or download of this book is for personal use only and may not be distributed, duplicated, or used for any commercial purpose.
John Piper has a new book out, and is generously providing a free pdf download of Filling Up the Afflictions of Christ at the Desiring God website. I've not read the book yet, so please leave a comment if you have. Just make sure you click on the link to get the pdf, unless you want to purchase a hard copy.
Filling Up the Afflictions of Christ looks at the cost of bringing the gospel to the nations, and the fact that it is often accompanied by the suffering of those involved.
Here is a little synopsis:
The price William Tyndale, Adoniram Judson, and John Paton paid to translate the Word of God, pave the way for missionary mobilization around the world, and lead the hostile to Christ was great. Yet their stories show how the gospel advances not only through the faithful proclamation of the truth but through representing the afflictions of Christ in our sufferings.