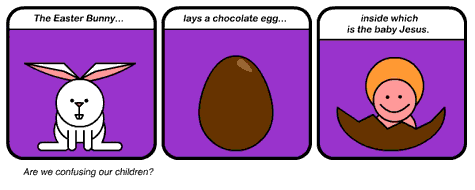 So you want high quality Easter clip art? You want it free? And you don't any bunny or egg pictures? You have just set yourself a tall order, but thankfully I have scoured the internet to find best free Easter clip art that money doesn't have to buy!
The one clip art I will mention with a bunny and an easter egg on is the image above from the superb AsboJesus. Check out the website for more great cartoons and images.
NB please read the licensing rules of each website as you may be required to link to their website. Click on the image to go the original image at the website it is hosted on to access higher resolution clip art.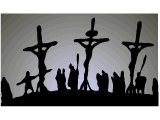 Bible Picture Gallery
This website has a big selection of Easter clip art of varying quality. I love the image on the left as it is superbly composed.



Pick and Print Gallery
This website has some good modern and traditional clip art images. Many such as the one on the right are completely different from the type of images available on other websites. You have to hunt down the long sidebar to find the section with various Easter clip art pages…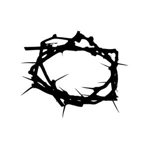 Stock.Xchng
Stock.Xchng has a good array of photos. The majority are of a secular nature, but there are some such as the image on the left which really stand out.
This image is by SCapture



Christian Clip Arts.net
This website specializes in clip art images from the New Testament. Simply type in Easter into the prominent keyword search option to give you a choice of 4 clip art images.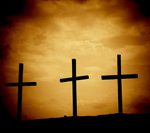 Flickr
You have to be careful with Flickr to make sure you are allowed to use the images, and sometimes it can be tricky to find good images. But this Flickr link has some great free-to use Easter images. Flickr users clearly like their easter egg images though so be prepared to dig around!
This image is by Paper by Design



Christ Art
There are a few simple Easter clip arts here such as the clip art to the right with Jesus ascending to heaven.

Do you know of any other good places to find Easter clip art?
If you want to find more great Christian clip art check out the definitive guide to free Christian clip art.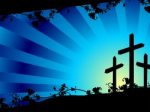 Find more Easter resources
You can find extra free Easter stuff including sermons, cards, music, clip art, devotions and much more at the Easter page.
image by dtcchc.