Why not check out the popular Definitive guide to Christian clip art by clicking here…

ChristrianCliparts.Net is a fantastic little website. There are just over 100 clip art pictures and also five videos currently (all of which are in a cartoon format). The fact that they are in the same format is good if you are looking for a similar style or look for whatever medium you are using them for. This also helped by the fact the images are produced to a very high quality and are also very distinctive and different from most of the other Christian clip-art available on the internet.
Clip art
All of the images are in the same style, and all cover key parts of the new testament (e.g. The Empty Tomb, I am the way, Peter disowned Jesus). You can see the style of images below (click on them to get the full sized image).



Videos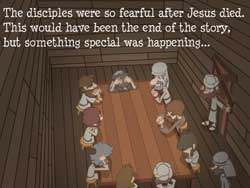 There are five videos including "Did Jesus really rise from the dead?" and "The Power of Prayer".
The videos are cartoons, and like the clip art they are very well produced. They take a little time to load depending on your internet set-up but once they have loaded they are very smooth.


Other content
There is also a little memory game and quiz about the apostles. It is a fun and slickly presented quiz and probably aimed at kids around age of ten.
Presentation and usage
It is easy to browse the site, and quick too apart from loading the videos. There is also a keyword search which is handy if you are after a specific character or story.
Summary
The only thing that would improve this website would be more images and clip-art. However the images that are here are of a superb quality. The images would be particularly suited to any kind of youth work.
Ratings:
fCr rating:

(6 votes)
Loading...
Strengths
Superb quality clip-art
All of the images are in a similar style
Weaknesses
It would be great if there were a few more images
Links
Website: http://christiancliparts.net/