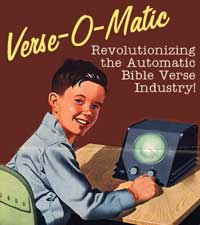 For anyone who hosts a blog on WordPress, Butler Blog have updated their useful bible verse plugin called Verse-O-Matic.
The basic premise of Verse-O-Matic is that it allows you to display a random verse in your blog or website. You have to add the verses you want rather than them being provided already, with just four examples included in the download.
Ease of use
Verse-O-Matic is very easy to install by simply uploading the relevant folder into your plugin folder and activating it. You can then put the code on your blog to display the code. There are good instructions on the Verse-O-Matic page as well to help should you need it. There is a also a sidebar widget included if you mange your sidebars with this method.
The set-up page within your WordPress is well laid out and intuitive to use.
What does it look like?
It is a very simple design and just displays the text. You can have a look at it on Butler Blog. Of course, you can easily use CSS to change the way the verse is displayed. You can decide to just have the verse, or to link to various other translations via Bible Gateway.
Other features and usage
Verse-O-Matic displays a single random scripture verse from the list that you manage on the WordPress 'manage' page. You can choose from showing a random verse each time a page is loaded, a randomly selected verse-of-the-day, a specifically chosen verse each day, or a single static verse that won't change until you change it.
Each verse can also be linked to anything you want. You could choose a specific verse in a specific translation, a set of verses, or even an online tract or blog post.
Summary
This is a fantastic WordPress plugin if you want to show random verse on your blog.
Ratings:
fCr rating:

(No Ratings Yet)

Loading...
Strengths
Weaknesses
You have to add in all th verses you want to show, it would be great if there was a version available with lots of verses already included, or way to import them from somewhere.
Links
Website:
http://butlerblog.com/verse-o-matic/