fCr rating:

Olive Tree's John Piper Sermons
Over 1,200 of John Piper's sermons on you mobile device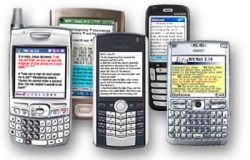 Olive Tree Bible Software and Desiring God Ministries have teamed up to provide a selection of 1,200 of John Piper's sermons free on your iPhone or mobile device. There is a list of the devices supported at the end of this review. This is a quiet amazing offer! Desiring God already provide John Piper's sermons free online, but the collaboration with Olive Tree allows them to be downloaded onto your mobile device to read at any time.
The version I am basing my review on is the iPod Touch version, but the general usability should be the same on all devices. You will need to have the Olive Tree software installed on your device and potentially will need to create an account too (however I did seem to be able to download it onto my device before setting up an account). These steps are both free and easy and take only a few minutes.
You can then find the free download by searching through the catalogue (at the moment it is near the top but simply go to Free Items and you should find it). You can browse through the sermons in a variety of ways as follows:
scripture – select a bible verse (or selection of verses) to see the sermons
topic – choose from a broad theological and contemporary subject areas (e.g. hope, education)
occasion – This splits relevant sermons into the Christian celebrations/occasions
series – groups of sermons based on the overarching theme for that series
title – an alphabetical list of sermons
date – or simply search by date!
This is more than enough ways to search, and with the latest sermons being added (the most recent one just over 1 month ago) this is an up to date selection of sermons. I highly recommend this application and series of sermons, I know I will be using it a lot in the future!
Here is the full list of supported devices/systems:
iPhone
iPod Touch
Palm OS 3-5
Pocket PC
Smartphone
Blackberry
iPod
Java Cell Phones
Symbian (various)
WAP cell phones