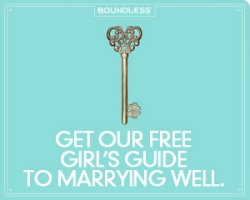 Boundless Line have just released a new book to help women to marry well, and the pdf version is available as a free download.
This book is not just about finding the perfect man, but about preparing yourself for married life even before you've met "the one". Simply visit this page, and after you provide your email adress you will be able to download it.
Here is a brief excerpt from the introduction:
Most women hope to marry, but for many, it's not happening like they thought it would. It seems too far away, or too unlikely, given the men they know and those they're meeting….

It's not enough to just coast along, counting on today's dating culture, and our culture's definition of marriage, to deliver a God-honoring and timely marriage to a good man. If you hope to marry well, you need to do more — and less — than what the culture says.
If you are guy, why not check out the Free Guy's Guide to Marrying Well