fCr rating:

Bloodlines
by John Piper
Download book
John Piper's path from racism to redemption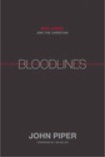 Note: The display and/or download of this book is for personal use only and it may not be distributed, duplicated, or used for any commercial purpose.
Bloodlines is an autobiographical book charting John Piper's upbringing from racism to path of redemption. It shows how with the cross of Christ is there is just one bloodline. There is also a video below where John Piper discusses this book. I've not had a chance to read the book, but the video is very moving – so I'm excited to read it when I have time.
Bloodlines Documentary with John Piper from Crossway on Vimeo.
To get the free pdf download of "Bloodlines" simply go to the Desiring God website at this link and then select the 'Download(PDF)' or 'Download this book (PDF)' link.
Have you read this book? What do you think about it? Why not vote or leave a comment?