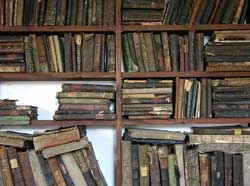 Classic books
Photo by Jurek Durczak
Last week Fred Sanders from the Scriptorium blog list the top twelve theology books from the history of Christianity. Obviously this is a subjective list, but there is no doubting it is a list of twelve awesome books.
When I saw the list I instantly thought a lot would be available free on Christian Classics Ethereal Library, as they were primarily classic literature. Then, just as I was about to write this post Fred sent an update confirming that eleven of the twelve books are available free!. Ten of these are from Christian Classics Ethereal Library, and one (Cyril of Alexandria) from The Tertullian Project. In fact the other one, the first on the list below is books from the bible so I trust you will all be okay getting a copy of that!
I have added these books to my list of 'must-read' titles to study. We have such a heritage of superb and deep Christian writing it is crazy not to read them.
Here is the full list of titles:
The Bible. Selections: Paul's Letters and the Gospel of John.
Irenaeus of Lyons, Demonstration of the Apostolic Preaching.
Athanasius of Alexandria, On the Incarnation.
Gregory of Nazianzus, The Five Theological Orations.
Cyril of Alexandria, On the Unity of Christ.
Augustine of Hippo, The Enchiridion on Faith, Hope, and Love.
Anselm of Canterbury, Cur Deus Homo (Why God Became Man).
Thomas Aquinas, Summa Theologiae selections.
Martin Luther, Selections.
John Calvin, The Institutes.
The Heidelberg Catechism by Ursinus and Olevianus
John Bunyan, Pilgrim's Progress.
Is there any books you would add to this list?