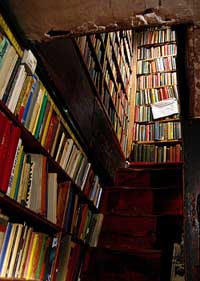 Inviting books
Photo by Chelsea Girl
Christian Classics Ethereal Library continues to improve its website beyond just simply providing free classic Christian literature. However, they need our help to make it work!
In a similar vein to Wikipedia, you can now correct any errors that you may see in books such as spelling mistakes and typos. This is a great improvement as it will help improve the books already provided by this fantastic website.
Here is the full press release that Christian Classics Ethereal Library provided:
This month we are introducing a new way that volunteers can help get books online. At the bottom of each book page, logged-in users will see a link labeled "Correct an error on this page." You can click that link and actually edit the page—correct typos or make more substantial edits. Changes go into an approval queue. There is also a link labeled "I have proofed this page." So now volunteers can proof a page on-line, make any necessary corrections, and mark the page as proofed. It's an easy—and, hopefully, fruitful—way to help distribute and promote classic Christian literature!