Christmas Lantern
Photo by gep
Whilst many of us will be unable to get to church on Christmas Day either because our church doesn't have a service, or because we're busy in the kitchen preparing a feast, this doesn't mean we don't get to hear a great Christmas sermon!
Whilst the advance of online media will never replace meeting together, the wealth of sermons on line is perfectly suited to help in this situation. So if you are looking for some great free Christmas sermons then here is a selection of some of the best places to find them on the internet.
I doubt you'll have time to listen or read all of them, but you'll definitely find something enriching in the selection of free Christmas sermons below:
Desiring God
John Piper's Desiring God website is packed full of great content, here is a selection of just a few of the best Christmas sermons preached:
Click on the links below to listen or read the sermons, some you can even watch:
Charles Spurgeon
If you want a deep Christmas sermon then look no further than Charles Spurgeon. Here are four Christmas sermons from the Spurgeon Archives. Obviously none of Spurgeon's sermons were recorded so these are text versions of his sermons:
A Christmas Question – Isaiah 9:6
Good Cheer for Christmas – Isaiah 25:6
The Incarnation and Birth of Christ – Micah 5:2
Joy Born at Christmas – Luke 2:10-12
John MacArthur
John MacArthur has just made his entire back catalogue of sermons available free online. Here are three from the archives:
Jonathan Edwards
Jonathan Edwards was not big on Christmas sermons but his Glorious Grace sermon is one of his most powerful early sermons, although it is not known exactly when it was preached.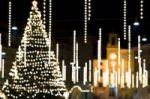 Find more Christmas songs and resources
You can find more free Christmas stuff including sermons, advent calendars, music, clip art and much more at the Christmas page. You can also find lots of free Christmas songs at the 'free Christmas songs' section. image by rache.