fCr rating:

Thousands of free Christian mp3s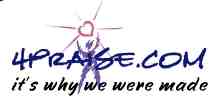 4Praise.com hosts thousands of free Christian mp3 songs of varying quality. All of the songs are submitted with full permission of the copyright holders and is 100% legal.
You can search through the website either by looking through the song list or artist lists. A usefull addition is the ability to see the most popular songs and artists – this is particularly important as the musicians included are not mainstream.
A big improvement would be to have the songs also filtered by genre. With over 4,000 songs there is a lot to trawl through with little to guide you on the style of music.