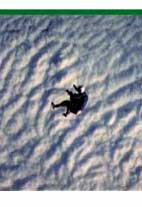 Jonny Baker recently posted on an audio visual meditation he lead and has provided both the text he used and a link to the free audio video that was playing in the background.
The video used was Dayvan Cowboy by Boards of Canada. The music is not your typical worship music but is an instrumental. Thankfully though, there are no pan-pipes in sight and this is an absolutely fantastic piece of music. My music ability is stunted but if I were to describe it it would be a mixture of Air (chilled out), Groove Armada (slightly funky and cool) and a tiny smattering of Radiohead (a little bit raw). Boards of Canada themselves are not Christian, but their music is perfectly suited to Christian meditation.
Jonny's words focus on those that have gone before us, and what we will do in the future/now. Here is a small snippet, but you'll have to go to his blog to get the rest…
will you dare?
will you dream?
will you risk?
will you follow?
will you leave your known world?
will you freefall with god?
Links
The meditation words:http://jonnybaker.blogs.com/jonnybaker/2007/10/cms-in-free-fal.html
The meditation video:http://www.warprecords.com/dayvancowboy/