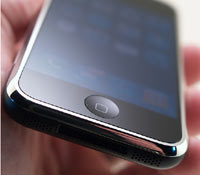 The ESV bible has just published a great technique that will allow you to put a link to the ESV bible onto the homepage of your iPhone. This has been made possible due to a change in the firmware of iPhones.
This will undoubtedly make it very quick and easy to access the ESV bible translation on your iPhone. It will also work with their devotions, which will really be useful as you are likely to be looking up that section daily on your iPhone if you read them.
Here are the steps that give to let you achieve this.
Make sure you're running the latest version of the iPhone firmware. (On your iPhone, go to Settings > General > About. The "Version" should be 1.1.3.) If you're not running the latest version, sync your iPhone with iTunes (which may also require updating—use Help > Check for Updates) and install the latest version.
Visit www.esv.org/mobile using Safari on your iPhone.
Press the + sign at the bottom of the iPhone screen.
Press the "Add to Home Screen" button.
(Optional.) Change the name from "ESV Bible" if you want.
Press the "Add" button at the top of the screen.