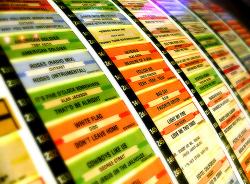 With so many different types of Christian music available and more songs being released all of the time just where do you go to find the most popular Christian songs? free Christian resources recently reviewed an iPhone website that showed the top 25 Christian songs, but there are plenty more options available for those of us without iPhones!
Whether you are interested in what people are singing in churches or on their iPod, videos or mp3s, singles or albums, you will find what you are after on the websites below
CCLI (Christian Copyright Licensing International) provide the most official and probably accurate list of what is being played in churches at the moment. You can select any country (from Australia, Canada, UK, US, New Zealand, Sweden and South Africa) and any month based on the royalties paid our each February and August. Some people dislike this list as it is difficult for potentially great songs to get on the list until they are fully established. However, if you want to know what churches are playing then this is the first place to look!
Pwarchive's chart tracks the most popular chord charts to suggest the best Christian songs at the moment. This chart is more likely to show newer popular songs as most people will already have purchased the chords for the classic Christian worship songs. The charts are updated each month. There were some copyright issues with this website, but this appears to have been resolved.
This is a great website to find the most popular songs and albums at the moment. CCLI and Pwarchive are more likely to be dominated by songs that are sung in Churches by the nature of how the data is compiled, whilst Billboard.com is more likely to pick up what people are buying for their iPod. You can even stream the songs through your browser. It includes the following charts:
Hot Christian Songs
Hot Gospel Songs (subscription service)
Hot Christian Adult Contemporary
Top Christian Albums
Top Gospel Albums
Here is the Top Christian and Gospel album chart which you can put on your website:

This is a really cool Yahoo! website that shows the most popular (presumably by the number of times they are played, although this is not specified) videos hosted by them. You can then watch any of the popular Christian videos you wish. The front page at the time of this review includes artists such as Chris Tomlin, Natalie Grant and Third Day. It is all 100% legal and you can purchase the songs through Yahoo Music as well should you so desire. You can even add the videos onto your website in the same way you would with a YouTube video, as I have below with the Lifehouse song Whatever it Takes (I don't recommend trying to watch this on dial-up)
PopularHymns.com have compiled a list of the most popular hymns after 18 months of research. With the copyrights having expired on all the songs, this site also includes lyrics, histories on the website which makes it a great resource. If 100 hymns is just too many for you they also provide the top 20.
The Christianity Today awards don't strictly show the most popular Christian songs, but it does showcase the best Christian music since 2000. With categories such as Best Christian Albums, Best New Christian Artists and Best Christian Worship Albums it is a treasure trove of bands and albums that you may well not have heard of.
Image attribution:
Jukebox heroes by iboy_daniel