fCr rating:

Which Verses
main website | apple website
Quick bible quizzes to test your knowledge.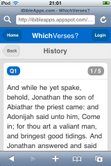 Which Verses is a simple iPhone based website that test s your knowledge of the bible.
It is straightforward to use, and dye to it's simple layout is quick to load. One very useful feature added recently is the ability to save your scores. This obviously helps see if you are getting any better. You need a gmail account to do this.
You select a group of books from the bible and then have to say which of those books a specific verse comes from. So for instance here is one of the questions:
Then went he inward, and measured the post of the door, two cubits; and the door, six cubits; and the breadth of the door, seven cubits. So he measured the length thereof, twenty cubits; and the breadth, twenty cubits, before the temple: and he said unto me, This is the most holy place. After he measured the wall of the house, six cubits; and the breadth of every side chamber, four cubits, round about the house on every side.

Jeremiah
Isaiah
Ezekiel
Lamentations
It would be good if there was a difficulty setting for those that are more well studied in scripture. Other potential improvemts might include different types of question (e.g. How many wives did Soloman have).
You can also play it on a normal web browser on your computer, which is a slightly easier version to use due to the larger screen
All in all this is a fun application to use that is a good way to get you to read a variety of verses.