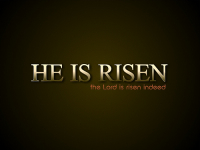 heisrisen
Photo by dtcchc
Here are some great free sermons from a variety of preachers covering different aspects of Easter. I'm certain if you listened or read these over the forty days of Easter you would benefit a lot more than by abstaining from chocolate or coffee.
I've selected these sermons from some of the most famous preachers from the past, and some of the more well known preachers of today. If you have any other favorite Easter preaches then leave a comment with a link to where they can be read or listened to!

Jonathan Edwards Easter sermons

Charles Spurgeon Easter sermons

Mat 28:6 The Tomb of Jesus
Rom 6:4 Christ's Resurrection and Our Newness of Life

John Chrysostom: The Easter Sermon

Martin Luther Easter sermons

Sermon for the First Sunday in Lent, Matthew 4:1-11 — The Fast and Temptation of Christ
Sermon for the Second Sunday in Lent, Matthew 15:21-28 — The Faith of the Syrophonecian Woman
Sermon for the Third Sunday in Lent, Luke 11:14-23 — Christ's Defense Against Those Who Slandered Him
Sermon for the Fourth Sunday in Lent, John 6:1-15 — The Feeding of the 5000
Sermon for the Fifth Sunday in Lent, John 8:46-59 — Christ's Defense Against His Enemies

George Whitefield Easter sermons

John Calvin Easter sermons

R.C.Ryle Easter sermons

John Piper Easter sermons

Ray Stedman Easter sermons

1 Cor 15:50-58 The Victory of the Mystery

John MacArthur Easter sermons

Coty Pinckney Easter sermons

Find more Easter resources
You can find extra free Easter stuff including sermons, cards, music, clip art, devotions and much more at the Easter page.