fCr rating:

Bible Gateway Mobile Bible
main website
The power of the Bible Gateway website in your pocket!
Bible Gateway are renowned for their popular online bible, but did you know they now have a mobile version of their website? This works really well on iPhones, and any other internet enable phones.
Unlike some iPhone bible, you cannot download any bible texts, to do this check out the iPhone bible applications page.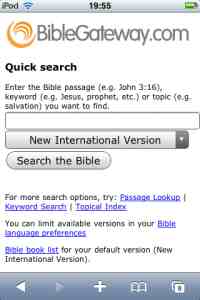 A key factor as to whether you'd be interested on using the website on your mobile phone is whether they have a translation of the bible you use. This should not be a problem as you can access all of the bible translations available on the main website, apart from those that are not text based. I've added the full list at the bottom of this article, but it does include the most popular ones such as NIV, ESV, NKJV and lots of non-English verions (almost 90 bible translations in all!)
Using the Bible Gateway mobile bible is simple. Just type the bible verse or chapter you want to read and select the bible translation you want to use. You can select your own preference of which bible translation to use so that you do not need to select it each time. You can also search by keyword, a topical index, or by selecting a chapter from a list.
As well as searching for a specific biblical text you can also access a daily bible reading plan or see a verse of the day.
There is a thorough tutorial available should you need any further help.
Bible Translations available:
English (EN)
21st Century King James Version
American Standard Version
Amplified Bible
Contemporary English Version
Darby Translation
Douay-Rheims 1899 American Edition.
English Standard Version
Holman Christian Standard Bible
King James Version
New American Standard Bible
New Century Version
New International Reader's Version
New International Version
New International Version – UK
New King James Version
New Living Translation
The Message
Today's New International Version
Worldwide English (New Testament)
Wycliffe New Testament
Young's Literal Translation
Amuzgo de Guerrero (AMU)
Amuzgo de Guerrero
العربية (AR)
Arabic Life Application Bible

Български (BG)
1940 Bulgarian Bible
Bulgarian Bible

Chinanteco de Comaltepec (CCO)
Chinanteco de Comaltepec
Cakchiquel Occidental (CKW)
Cakchiquel Occidental
Kreyol (CPF)
Haitian Creole Version
Čeština (CS)
Slovo na cestu
Dansk (DA)
Dette er Biblen på dansk
Deutsch (DE)
Hoffnung für Alle
Luther Bibel 1545
Español (ES)
Biblia en Lenguaje Sencillo
Castilian
La Biblia de las Américas
Nueva Versión Internacional
Reina-Valera 1960
Reina-Valera 1995
Reina-Valera Antigua
Français (FR)
La Bible du Semeur
Louis Segond
Κοινη (GRC)
1550 Stephanus New Testament
1881 Westcott-Hort New Testament
1894 Scrivener New Testament
תירביע (HE) The Westminster Leningrad Codex
Ilonggo (HIL)
Hiligaynon Bible
Hrvatski (HR)
Croatian Bible
Magyar (HU)
Hungarian Károli
Íslenska (IS)
Icelandic Bible
La Nuova Diodati
La Parola è Vita
Jacalteco, Oriental (JAC)
Jacalteco, Oriental
Kekchi (KEK)
Kekchi
한국어 (KO)
Korean Bible
Māori (MI)
Maori Bible
Macedonian (MK)
Macedonian New Testament
Mam, Central (MVC)
Mam, Central
Mam, Todos Santos (MVJ)
Mam de Todos Santos Chuchumatán
Plautdietsch (NDS)
Reimer 2001
Náhuatl de Guerrero (NGU)
Náhuatl de Guerrero
Nederlands (NL)
Het Boek
Norsk (NO)
Det Norsk Bibelselskap 1930
Levande Bibeln
Português (PT)
João Ferreira de Almeida Atualizada
O Livro
Quiché, Centro Occidenta (QUT)
Quiché, Centro Occidental
Română (RO)
Romanian
Русский (RU)
Russian Synodal Version
Slovo Zhizny
Slovenčina (SK)
Nádej pre kazdého
Shqip (SQ)
Albanian Bible
Svenska (SV)
Levande Bibeln
Svenska 1917
Kiswahili (SW)
Swahili New Testament
Tagalog (TL)
Ang Salita ng Diyos
Українська (UK)
Ukrainian Bible
Uspanteco (USP)
Uspanteco
Tiêng Viêt (VI)
1934 Vietnamese Bible
汉语 (ZH)
Chinese Union Version (Simplified)
Chinese Union Version (Traditional)