fCr rating:

CCEL iPhone bible
main website | download from iTunes
2 free bibles and 3 books on your iPhone
Christian Classics Ethereal Library (CCEL) is well know for the great selection of free Christian books they provide. Now they have turned their hand to providing a free iPhone bible.
As with many of the iPhone bible applications, you can view it offline as the texts are stored on the iPhone. Another key part of the CCEL iPhone application is the ability to download free books as well as bible texts.
The free bible translations currently include ASV and KJV.
Searching through bibles can either be done via specific word/s or by selecting the specific book and then chapter. You can also bookmark specific verses to go back to them later. When you are reading the text the menus disappear (until you tap the screen), meaning the bible text fills the whole screen. You can then easily scroll to the next chapter by touching the right of the screen.
Overall if you are purely after a bible for your iPhone there are probably better options that allow to search and move around the books and translations easier. However the option to download free Christian books is the real strength of the CCEL iPhone bible application.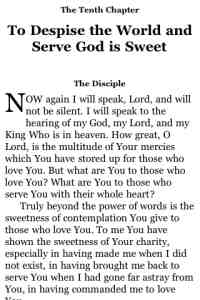 Firstly, the way the menus disappears may be hindrance for easily navigating the bible – but when you are reading a book it is perfect. You can just read!
Currently three fantastic books are included in the free download. Soon there will be the ability to download and install books from CCEL. When this happens this application will really start to come into its own.
Here are some of the books available:
The Practice of the Presence of God by Brother Lawrence
The Imitation of Christ by Thomas a Kempis
Morning and Evening Daily Devotion by Charles Spurgeon
A very useful feature of the search function is that you can either search the entire library of books, or just one specific book (or indeed a custom selection).
The books are split by chapters to make it easy to select a section, and each book will open where you were last reading (or at least at the beginning of that chapter)
In its current format the CCEL bible is well worth downloading, but its strength will be in the library of books that will be available rather than as a bible package.
This review was based on the CCEL bible (v2.0.1)