fCr rating:

Mars Hill Music
main website
130 good quality music downloads (at the time of this review) from 10 different Christian bands.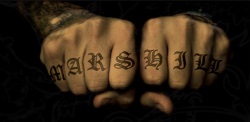 Mars Hill are well known for Mark Driscoll, and to readers of this website for providing many free Christian resources. But did you know they also provide free downloads of Christian music? Did you know they provide over 100 free downloads of Christian music! At the time of this review there were 130 songs, but these are being added to all the time. There are ten Christian bands featured at the Mars Hill website, 7 of which are current bands. We'll be featuring each band over a series of posts over the next few weeks. To go to a specific band simply click on their name in the lists at the end of this post.
All of the free downloads that Mars Hill provide are of high quality, and you can also embed the songs into your website using the code Mars Hill provide. Many of the songs also have pdf lyrics that you can download.
With so many songs provided free, there is bound to be something that you enjoy. After all it is the equivalent of over ten albums of free music!
Current Bands with free Christian music downloads
Ex Nihilo
Mint
Brothers of the Empty Tomb
E-Pop
Red Letter
Retired bands with free Christian music downloads
The Parsons
The Mars Hillbillies
Team Strike Force